The engagement ring is a symbol of love and commitment, steeped in history and tradition. It is believed that the practice of giving rings as symbols of betrothal dates back to ancient times, with the earliest known examples found in Egypt over 6,000 years ago.
Engagement rings have evolved significantly since then, but they still carry deep meaning for those who wear them. In this article, we will explore the history and symbolism behind engagement rings. We'll look at how their design has changed over time as well as what they mean today – both culturally and for individuals – when someone makes such an important gesture by slipping a ring onto another finger.
Origins of Engagement Rings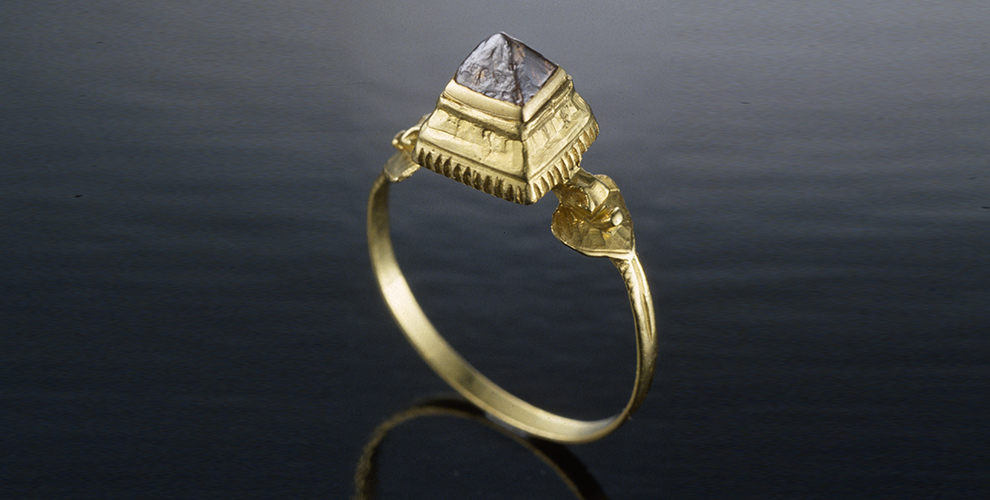 The origins of engagement rings date back to ancient Egypt when they were used as a symbol of love and commitment. In the Middle Ages, betrothal rings became popular in Europe, often featuring intricate designs that reflected the faith and values of their owners.
During this time diamonds began to appear in bridal jewelry, though it wasn't until the early 1800s that diamond engagement rings gained widespread popularity due to advances in technology that made them more accessible. By then these special tokens had taken on a deeper meaning- a promise between two people to remain together forever -and today they are still given as symbols of eternal love and devotion.
Meaning and Significance of Engagement Rings
The meaning and significance of engagement rings have a long history, beginning with the ancient Egyptians who are credited for creating the first betrothal tradition. Engagement rings symbolize love and commitment between two people — a promise to stand by each other through marriage.
They also represent wealth, as historically they were given as an expression of financial security. In the modern era, engagement rings remain one of the most important symbols in any relationship and signify both trust and romance between two partners.
The ring also serves to remind its wearer of their commitment to marriage before God or whomever they believe in. As such, it is often seen as a sign of faithfulness and loyalty that will last throughout eternity.
Historical Precedent for Engagement Rings
The use of engagement rings as symbols of commitment and love has a long history. Dating back to the Ancient Egyptians, couples have used rings to signify their betrothals.
The ancient Romans also adopted this custom, with men presenting their brides-to-be with gold bands as a sign of everlasting fidelity and devotion. In 1215, Pope Innocent III declared marriage to be legally binding only if accompanied by an exchange of rings between the couple.
This further solidified engagement ring symbolism in Europe and beyond. During the Middle Ages through modern times, diamond engagement rings became popular due to their beauty and rarity symbolizing lasting love during a time when marriages were arranged for economic reasons rather than romantic ones.
Today's traditions still honor these centuries-old practices with many couples opting for matching wedding bands in addition to traditional diamond engagement rings—a testament not only to eternal commitment but also to timelessness itself.
Cultural Symbolism Surrounding Engagement Rings
Engagement rings have long been a symbol of love and commitment. Traditionally, they date back to ancient Egypt when a ring was used as an official way to signify the union between two people.
Rings continued their usage in many cultures throughout the ages, but it wasn't until 1215 when Pope Innocent III made engagement rings part of the Christian marriage ceremony that they became commonplace within Western culture. Today, an engagement ring is often seen as a status symbol and can be quite expensive depending on its design and gemstone selection.
In some cultures, diamonds are considered to be symbols of strength or eternity; in others, rubies or sapphires may carry different meanings such as passion or loyalty. The type of metal used for the band can also have symbolic meaning: gold usually represents wealth while silver stands for purity.
It is worth noting that certain shapes are preferred by couples too: round-cut stones typically represent eternal love whereas square ones convey stability and protection for the couple's future together. The choice of an engagement ring is highly personalized; however, there is no denying that these beautiful pieces hold deep cultural symbolism with them – each one telling its own unique story without ever having to say a single word!
Modern-Day Interpretations of Engagement Ring Traditions
Modern-day interpretations of engagement ring traditions have created countless new possibilities for couples to express themselves. With the increasing availability of unique and customizable rings, many today are choosing to craft custom-made pieces that showcase a shared love story or significant meaning.
From using ethical materials such as lab-grown diamonds and recycled gold to adding special engravings that capture the couple's values, modern engagement rings are not only beautiful but also meaningful. Furthermore, with the introduction of 3D printing technology and computer-aided design software, endless possibilities now exist when it comes to creating an entirely personalized piece – from its style and shape through to its metal type and stone setting. As a result, couples can create timeless symbols of their commitment with more freedom than ever before.
Conclusion
Engagement rings are an important part of the wedding process. They represent a commitment between two people, something that can sometimes be forgotten in today's society.
Throughout history and across different cultures, engagement rings have held their symbolism from being associated with wealth and power to representing love and fidelity. Engagement rings remain one of the most iconic symbols of eternal love and devotion between two individuals, a symbol that will never go out of style.